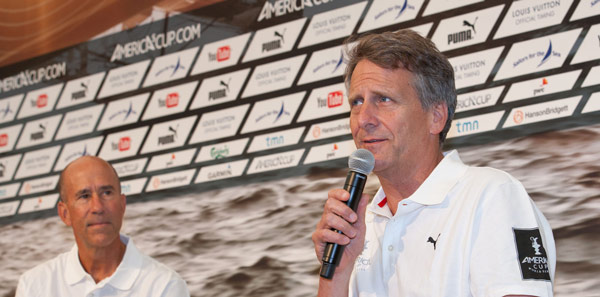 The America's Cup is yet to convince too many TV networks that their new sailing product is the way to go. TVNZ have signed up, captializing on the fact that Emirates Team NZ is a nation-based team with strong commercial credentials, but almost all the other teams (not counting the defender ORACLE Racing) are yet to build any real fan-base.
It will be a while before the America's Cup Event Authority sees any commercial return on investment. With a 100-strong outside broadcast crew, three helicopter cameras, four cameras on water, and land-based cameras the Cup is investing (read – losing money on) in onboard cameras, designed to be as ergonomic and lightweight as possible to minimize their impact on the racing yachts and 14 onboard microphones will capture every sound.
Pushing the boundaries is one thing, but unless the Cup starts delivering audiences, the Networks aren't going to want to give up expensive airtime to 12,000 or so Facebook fans of the cup.
Until the deals are done, fans of the America's Cup, have to be content with the product being streamed by YouTube. The partnership between ACTV and YouTube is developing some new ways to watch – allowing fans to play producer and choose which cameras they want to watch and which commentary they want to listen to.
Stan Honey, Director of Technology, America's Cup Event Authority says:
"The new America's Cup is all about transforming the way people see the sport of sailing and with YouTube, we can put the viewer in the driver's seat of their experience. With YouTube's reach across vast, multi-generational audiences, we're hugely excited about the potential of this partnership to reach broader audiences than ever before."
With the player, viewers can choose from live footage onboard with a team, a graphical overview or an eagle's eye view as part of the daily livestreaming from race events. In addition, viewers can select different audio tracks, either expert sailing or standard sports commentary.
Claude Ruibal, Global Head of Sports Content for YouTube says:
"Our goal for YouTube Sports is to create a user experience unlike anything available today, so it's great to have compelling content produced in a very innovative way. The new America's Cup livestream is exactly that, and will be even more dynamic as we build in new technology. We believe that our partnership with the 34th America's Cup will be a game-changer for viewers, providing global communities easy access to engaging content whenever and where ever they want it."
Having not yet delivered on the promise of a TV revolution, the America's Cup Event Authority are still pushing the line that this will be like nothing that has ever been done before, anywhere – which is just false.
Honey is quoted as saying:
"Our partnership with YouTube will not just break new ground in sailing, but in international sport."
Perhaps he is still talking about things done with helicopters, but multiple commentary and multiple camera angles have been part of 'red-button' technology in the UK for years.
In the mean-time, we wait for the America's Cup television product to catch up to the hype.