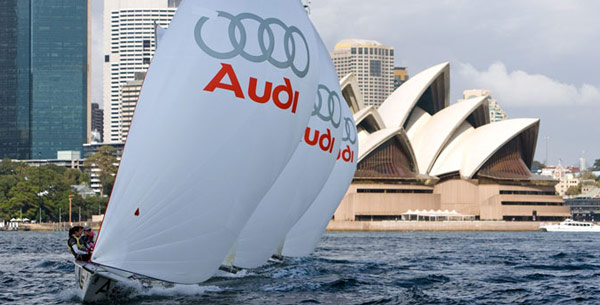 Audi Australia has been re-arranging its sailing sponsorships over the last 12 months or so. The company ended long-term deals with events like Victoria Week and the Sydney Harbour Regatta, but has now announced that it will continue its relationship with the Cruising Yacht Club of Australia.
Garry Linacre, Commodore of the CYCA, has confirmed that Audi Centre Sydney will continue on as the naming rights sponsor of the Audi Winter Series, the Audi Sydney Gold Coast Yacht Race and the CYCA Youth Sailing Academy.
Commodore Linacre said:
"On behalf of the CYCA we are proud and honoured to continue our association with Audi, the largest corporate sponsor of competitive yachting in Australia. We are pleased that Audi will continue to be one of the Club's key sponsors and has renewed its commitment to the sport of yachting. With Audi's sponsorship, the CYCA can continue to deliver some of Australia's premiere yachting events including the Audi Winter Series and the Audi Sydney Gold Coast Yacht Race; and lead the way in developing the sailors of tomorrow through the Youth Sailing Academy."
Audi Centre Sydney Dealer Principal, Joe King said:
"We look forward to working closely with the CYCA to bring the Audi brand even closer to the Club's members. Audi has been a keen supporter of competitive sailing for some years now as we see clear parallels between the automotive industry and sailing in terms of technology, competitiveness and progressive thinking. We are excited to again support 'anchor' events as the Audi Winter Series and of course the just-completed Audi Sydney Gold Coast Yacht Race."

"The CYCA's Youth Sailing Academy is also a fantastic grass roots initiative which we applaud, bringing new skills and a love of sailing to children in the Club's local area. This is certainly a place to find future world champions and Olympians and Audi. "
Each of the sponsored events have different audiences and reflect different brand characteristics.
The Audi Winter Series has fleets averaging 140 plus boats weekly making it is one of the biggest weekly winter sailing events in the world, attracting more than 1,500 competitors who enjoy plenty of action packed round the buoys racing on the beautiful Sydney Harbour each week.
The CYCA Youth Sailing Academy was set up 18 years ago and is now one of the first full-time sailing academies dedicated to foster the development of young keelboat sailors. This sponsorship support of the the Academy's training program provides opportunities for the Club's young talent to attend national and international ISAF graded regattas to gain greater experience. Many graduates have gone on to sail on member yachts, sail professionally or compete in the Olympics. In 2013, the YSA will celebrate its 20th anniversary.