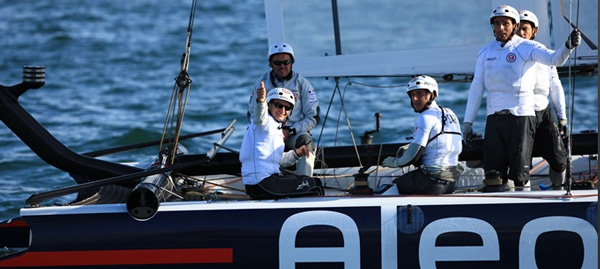 It was inevitable. Everybody knew that not all teams signed up for the America's Cup would make it to the end. The product just wasn't well formed enough, early enough, to convince big brands to part with cash – especially in markets like France, where the effects of the Global Financial Crisis are still top of mind for CEOs and Marketing Directors.
So it is not really a surprise that  ALEPH – Equipe de France has announced its withdrawal from the 34th America's Cup and from the America's Cup World Series 2011/2012 circuit.
It has also been revealed that GreenComm will not compete in the Naples round of the America's Cup World Series.
ALEPH Drops Out of the 34th America's Cup
Back in October, ALEPH (What's with the capitalisation of team names in sailing?) asked sports marketing company Sportfive to try and position the sponsorship rights for the team, but after 6 months (with no race activity in the period), there is no brand willing to take the risk that is being assumed by private investors in other teams.
Even with the NBC deal now announced, ALEPH faced some big hurdles in France, not least of which was that there are (were) two French teams competing for sponsorship. In addition, French companies have other options in sailing, like the Vendee Globe, which is a proven model with demonstrable ROI. And the water-jump in the sponsorship steeplechase  - that would make any board member think twice before signing off on a 20, 30, 40 million euro cheque – is recent news that companies like Veolia and Groupama have been forced to re-evaluate their sailing sponsorships.
Hugues Lepic, Chairman of ALEPH – Equipe de France commented:
The new format of the America's Cup and the America's Cup World Series circuit should have enabled us to attract sponsors and to finance a highly competitive French National Team. Although this new circuit is starting to fulfill its promises and in spite of very promising sporting results against the best teams, the economic environment does not allow us to go all the way to San Francisco in 2013."
Philippe Ligot, CEO of ALEPH – Equipe de France added:
"We fought hard, with all our drive and enthusiasm, to find a budget allowing us to participate in the final phase of the 34th America's Cup. We did not want to compete with resources that would not allow us to credibly challenge the best teams. France has, without a doubt, all the sporting, technical and managerial talent to win the Cup but the current economic environment makes funding a commercial team extremely difficult.

Over the last two years I lead, along with Bertrand Pacé and Marcus Hutchinson, a great team and I thank them all for their contributions. We also wish to warmly thank Jean-Pierre Champion, the Chairman of the French Sailing Federation (FFV), our partner since the start of our challenge, who has been such a strong supporter of ALEPH – Equipe de France during this period."
GreenComm Won't Compete in Naples.
There is no official statement from ACEA about the withdrawl of ALEPH yet. The PR spin team did issue a release last night that focuses on the America's Cup World Series in Naples being padded out by two boats from ORACLE Racing and Luna Rossa, and at the end of the statement  - beyond the attention span of most bloggers and many readers – the news of ALEPH's absence is mentioned alongside the news that GreenComm will also not compete in Naples.
This is despite the Spanish/European team being upbeat about the future just weeks ago.