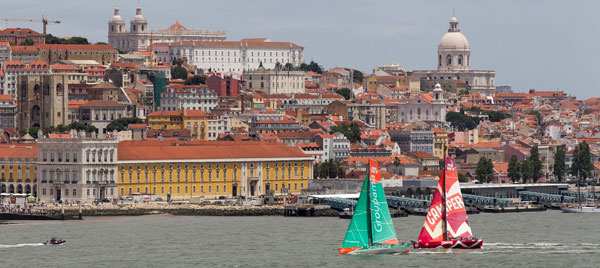 While the budgets of European governments might be stretched at the moment, one of of the areas where spending can lead to an economic benefit is hosting sporting events.
Lisbon in Portugal and the surrounding areas including Cascais have invested heavily in attracting sailing events to the region. The America's Cup World Series, Volvo Ocean Race and other big events have visited in the last couple of years, hoping to attract a desirable tourism demographic.
According to the Volvo Ocean Race report from the last edition, the 'total impact on production' of the Lisbon stopover was €31.5 million, though 84% of visitors to the race village were local.
Lisbon will build on the debut stopover by hosting the race in each of the next two editions.
Mayor of Lisbon, António Costa commented:
"Welcoming the Volvo Ocean Race to Lisbon for its next editions will again represent a great opportunity to promote the culture and heritage of Lisbon on a global scale.

"This will be an important landmark for the City as a privileged stage for great events. In addition, the event will also give us the opportunity to promote regular sport among our population, in this case directly related to sailing, a sport with great tradition in the country and one of the few in which we have a rich background in terms Olympic athletes."
Tom Touber, Volvo Ocean Race COO said:
"What Lisbon achieved in the last Race was remarkable when you think that the city was making its debut. Lisbon is a great port city and the people came out in their thousands to welcome the sailors as their own. The Race Village was a hive of activity, with everyone coming together to give the stopover a distinct Portuguese feel. It was a truly great success and we can't wait to come back."
The boats will reach Lisbon in 2015 after setting out from Newport, Rhode Island and crossing the Atlantic back to Europe.