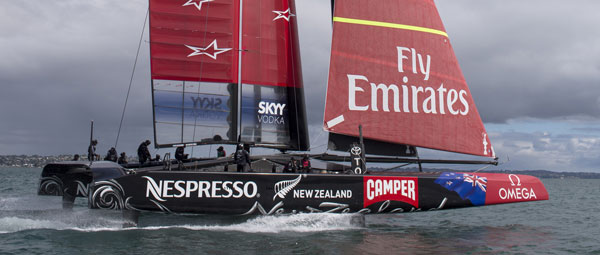 One of the ways that sailing can deliver long term return on investment to sponsors is through participation in multiple events in markets that give sponsors marginal returns.
Teams like 'BT Team Ellen, which featured an IMOCA 60, Extreme 40 and F18, with three skippers from three different countries allowed sponsors to get 3 times the value without spending 3 times the price. Other teams which might fit into this category include GAC Pindar, Oman Sail, Banque Populaire's sailing portfolio and Emirates Team NZ.
America's Cup teams like Emirates Team NZ give sponsors an opportunity to get exposure from the cup at a lower risk than backing a new team.
Back in August, following the successful partnership forged during the Volvo Ocean Race 2011-12, CAMPER with Emirates Team New Zealand, the Spanish footwear brand Camper announced it would sponsor and support the ETNZ in their bid to win the America's Cup.
CAMPER, a family-owned company founded on Mallorca in 1877 has been involved with sailsport since 1984 when the brand sponsored the winner of the World Windsurfing Championship. The company has also had an involvement with the 3/4 Ton Cup and sponsored the Copa del Rey regatta.
During the last Volvo Ocean Race, CAMPER not only promoted its specially designed footwear through its global retail network, the brand also promoted the city of Alicante – the start port of the race – through outdoor campaigns and other activation.
Team New Zealand is also supported by title sponsor Emirates Airlines, Nespresso, Omega, the New Zealand government and a long list of Official Suppliers and partners.
Given the world-wide attention on the AC72 foiling off the coast of Auckland, many of these brands will have had significant media value delivered before the team even starts sailing on the waters of San Francisco Bay.