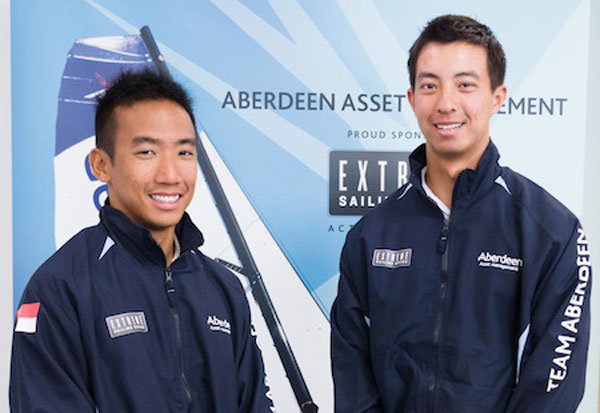 Aberdeen Asset Management, the title sponsors of Cowes Week will sponsor the Singapore round of the Extreme Sailing Series for the next three years. The deal will include sponsorship of a local team in the event. Team Aberdeen Singapore will be skippered by local sailor Scott Glen Sydney.
Aberdeen Asset Management has dabbled with the Extreme 40 series before. In 2011, at the Cowes round of the series, the company backed a local boat.
Hugh Young, Managing Director at Aberdeen Asset Management Asia Limited said:
"We are delighted to bring the Extreme Sailing Series to Singapore as it promises lots of entertainment and we have developed a successful association with sailing elsewhere in the world. We are happy to be able to support Singapore's sailing ambitions and the inclusion of two young Singapore sailing stars will generate great local interest."
The team will bring new talent to the series. 22-year-old Scott Glen Sydney will team up with Justin Wong to form the foundation of the Singapore crew.
Scott said:
"I'm very excited at the prospect of representing Team Aberdeen Singapore in the Extreme Sailing Series in Singapore. This is an immense opportunity and I hope to use this experience to become a more well-rounded sailor."
Team Korea Enter Extreme Sailing Series
America's Cup hopefuls Team Korea have not given up on sailing competitive catamarans. The team, skippered by Peter Burling, Olympic silver medallist from London 2012, will join the Extreme Sailing Series at the first event in Oman.
Calling tactics onboard will be Burling's London 2012 silver medal winning 49er crew Blair Tuke (NZL), while Extreme 40 veteran and British Olympian, Mark Bulkeley, who is now entering his fifth season in the Extreme Sailing Series will be the teams Mainsail trimmer, a role he fulfilled in 2012 with GAC Pindar. Matt Cornwall (GBR), considered one of the most diverse sailors around with accolades ranging from Match Racing World Champion, to winning the Sydney-Hobart race as well as America's Cup and Extreme 40 experience, will take on the role of Bowman.
Team Korea was founded by Kim Dong Young, Team Principal and CEO, with the ambition of boosting public interest and attracting new people to take up the sport of sailing. Young commented:
"We are realistic that it will be challenging for Team Korea to adapt to a new class, however we have put together an extremely strong team and a team we believe can be competitive within this world class fleet. Over time we aim to grow a national team of Korean sailors who can compete internationally and feel the Extreme 40 is the right boat for us to do that on and introduce our sailors to multihull racing."
In another first for Korea, the fifth crew member, who will be announced shortly, will be a Korean national, as part of Team Korea's long term goal to develop a national sailing team.