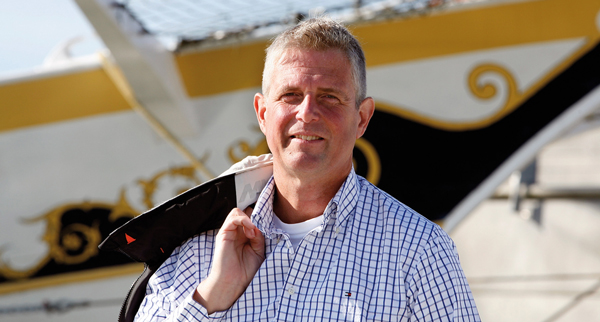 The Volvo Ocean Race is a complex event. Multiple teams, multiple stops, multiple stakeholders and a lot of operational details that have to be managed to a professional standard.
Organisers of the race have announced that Dutchman Tom Touber will become Chief Operating Officer (COO) of the event.  Touber, 48, will report directly to CEO Knut Frostad and will assume operational responsibilities from Race headquarters in Alicante.
The Volvo Ocean Race has in recent editions hired a number of people from outside the sport and the event, however Touber is not new to the Race. He managed both the winning ABN AMRO team in the 2005-06 Race as well as the Delta Lloyd campaign in the 2008-09 edition. He also acted as a consultant during the last edition,  preparing stopovers.
Knut Frostad said:
"I am delighted to welcome Tom on board and I believe his experience, passion and dedication to our Race will further strengthen our position going forward. The Race is standing at one of the most exciting moments in its history, having introduced a new one-design class and several other measures to grow its fleet and improve the sponsor and audience experience even more in the next edition.

"A strong and dedicated team at the helm of the Race is essential and I am looking forward to grabbing this great opportunity with Tom on board which strengthens our top level management even further."
Touber said:
"After my first experience in the Volvo Ocean Race in 1997, I really got excited about the characteristics of the Race.

"The enormous challenge teams have to face to participate in this event, as well as the leadership and teamwork required to win provide a great platform to build and reinforce brands. Volvo Cars and Volvo Group and many of the team sponsors have shown how to do this by utilising the values of the Race.
A few numbers have emerged about the cost of a Volvo Ocean Race under the new One-Design regime, but Touber has a new number which seems a little off the estimates of others. Knut Frostad said when the boat was announced that a campaign would be in the region of 15 million euros. Touber says that a campaign could work out at 3-4 million per year!
"The fact that the barrier of entry for teams is lowered to 3 to 4 million euros per year makes this one-design ocean race an even better sponsor opportunity than ever. Shaping the operations around this new phase is my passion and I look forward to working with Knut Frostad and the rest of the team to make it happen."