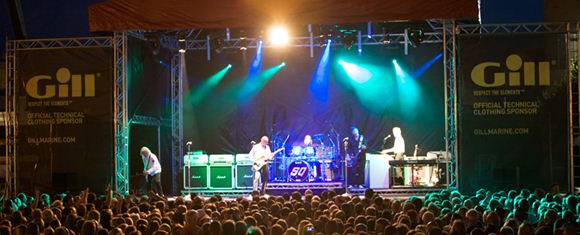 Clothing manufacturers get a pretty good deal when it comes to promotional activity. In many cases, there is no cash involved, just in-kind provision of gear to officials and sailors and on top of the indirect promotion of the brand, there is in some cases, the ability to sell merchandise.
Different deals provide different opportunities and touch different markets, but sometimes there is an overlap. Sailing apparel brand Gill has recently announced three deals, all in the UK – from recognisable events through to grass-roots support of the sport.
Gill Extends Cowes Week Clothing Deal.
Gill has extended their sponsorship as the Official Technical Clothing Sponsor to Aberdeen Asset Management Cowes Week until 2015. The renewal of the deal comes on the heels of Aberdeen Asset Management also extending their support of the annual regatta.
Nick Gill, Chairman of Gill, comments:
"Our involvement with this world-famous regatta, over the past two years, has proved extremely successful for the brand. We have enjoyed developing our relationships with Cowes Week Limited and Aberdeen Asset Management and are looking forward to continuing our association with this internationally iconic event, which sees more than 8,500 competitors racing in the Solent each year."
As technical clothing sponsor Gill provides support through staff uniforms, prize vouchers, and competitor pack gifts. In addition to this they sponsor The Gill Stage within Cowes Yacht Haven where there is a pop-up Gill store offering technical clothing. Gill also offer a range of official event merchandise.
Gill Supports the British Keelboat Academy
Gill has been appointed official clothing supplier to the British Keelboat Academy (BKA), the national keelboat race training programme run in partnership between the RYA and UKSA.
Nick Gill comments:
It fits nicely into Gill's strategy of being involved in grass roots sailing, and taking the most talented young Keelboat sailors up to the next level is very much part of that.
Luke McCarthy, BKA Head Coach adds:
"We are excited to be working with Gill as official clothing supplier to the British Keelboat Academy. Our squad sailors take part in a range of sailing in challenging conditions, and this partnership will give them access to Gill's exceptional product range to meet their needs, as well as access to Gill's expertise and technical input."
Gill Official Clothing Partner for RYA OnBoard
Gill will also support the RYA though its grassroots sailing scheme OnBoard (OB) which introduces thousands of youngsters to sailing and windsurfing across the country.
The deal allows participating sailing clubs, OB volunteers and new sailors discounts on Gill clothing and kit.
RYA Sport Development Manager Jon White said:
"We are very excited to announce Gill as the official clothing partner for our OnBoard programme. With a strong presence in the dinghy sailing market, Gill fit perfectly with the OB mission to get more youngsters out on the water-something that's essential to the future of the sport".
The partnership will also see Gill providing clothing to the staff who deliver RYA participation programmes across the country including Team15, Sailability and the Active Marina Programme.