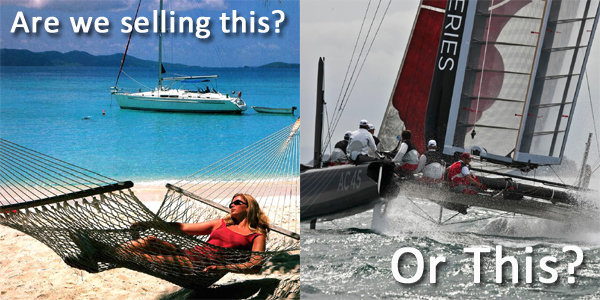 As many regular readers will know – one of the biggest problems facing the sport of sailing is trying to differentiate it from the verb which has a wide variety of definitions.
Bodies like Yachting Australia have multiple goals which are complicated by the fact that sailing is an activity that can be done for work, sport and leisure. Perhaps that is why the international governing body – ISAF concentrates on the Olympics – because it is a manageable 'product'.
The objectives of Yachting Australia include words like consumption, brand architecture, sponsorship and licensing. The report will be used to shape the future of yacht club programs to increase membership and participation, but many of the recommendations seem to be cookie-cutter style initiatives borrowed from sports that enjoy a very different place in Australian sporting life.
The insight that has gained the most publicity so far is that sailing ranks 37th out of 46 sports on a scale of how passionate Australians between the ages of 5 and 75 are. However, the same research says that the sport that Australians are most passionate about is – walking!
Apparently, 31% of Australians are "fanatical" about walking, while only 5% are fanatical about sailing.
The link between participation and being a fan is notable by its relative lack of absence in the recommendations. The headline on page 17 says:  "Only 24% of sailing and yachting fanatics are current participants in the sport." Which means that 76% of fanatics love to watch! This number increases when you look at the 'fan' categorisation. 94% of people who say they are sailing fans do not participate.
If the statistics can be believed, then there are 1 million people who are fanatical about sailing, just in Australia. Unfortunately, what we don't know is what kind of sailing they are passionate about. Do they want to cruise the Whitsunday Islands, or are they following the fortunes of James Spithill?
The research did confirm some perceptions about sailing.
Sailing is perceived as an 'exclusive' sport while not being seen as very 'accessible'. Yacht Clubs are generally not welcoming, and are for older people only
On average, the starting age of sailing is much higher than other sports with established junior programs
Primary and Secondary school age children, and young families have the highest interest in participating in sailing in the future
The main barrier for future participation is the perceived cost of sailing. Boat ownership, maintenance, storage costs, and annual membership payment, are expensive, especially for a family.
But the research also confirms other stereotypes about sailing, which are cliched attributes that position it against having a picnic. The following slide demonstrates why the new format America's Cup has to work, because if we pander to the following perceptions about sailing, then it is dead.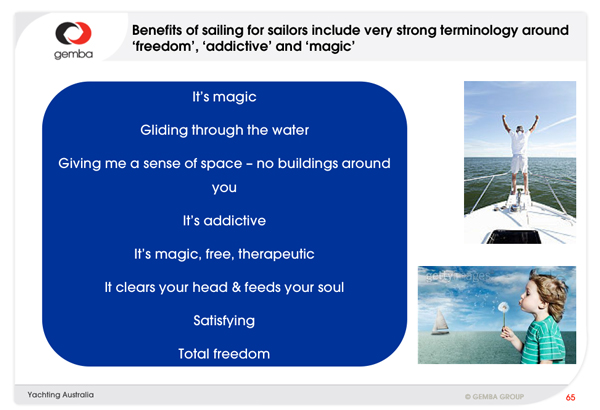 The same set of attributes could be used to describe snow sports, but instead, snow sports are seen as cool, modern and for young people.
After all that work, the way forward are a set of fairly common sense things that are already being done around the world by sailing clubs and yacht clubs. They include.
Improve the image of Clubs – make them more welcoming and inclusive
Help reduce the entry costs – providing club boats and promote crewing opportunities
Help reduce the initial commitment – for example introductory, flexible, and concessional membership
Increase the emphasis on relaxed social racing – rather than just competition. Engage new participants in club social and networking activities.
Reduce the time commitment – Consumers want shorter forms of sailing activities
The final recommendations relate to communication, which deserve a whole 700 word post on their own.
It's fantastic that Yachting Australia has taken the initiative to ask the Australian public what they think sailing should be, but there are some great learnings in the sport already. Organisations like the RYA, The Volvo Ocean Race Academy and Oman Sail have gone beyond the "give it a go – please" strategies and are positioning sailing on their terms.
We'll cover the sponsorship, licensing and communication sections tomorrow!