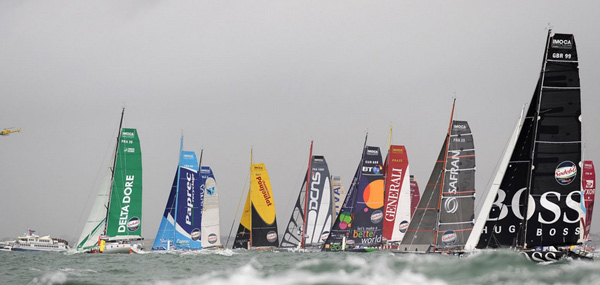 The start of the Vendee Globe is approaching quickly, but there are several faces from the last edition of the race who are yet to raise the campaign funds required for the race.
The event organisers, perhaps mindful of the fact that the race is a little bit too French, are trying to help British competitors like Dee Caffari and Steve White by publicising their sponsorship search. Both sailors are still working hard to try and raise the backing required to be part of the race.
While there are signs that the sponsorship market is starting to slowly rise off the bottom, the fact that sailors like Dee Caffari is having so much trouble finding Vendee Globe sponsorship suggests that brands are thinking long and hard about their options.
Dee said recently:
'With only eight months to go, I am more aware than most just how fast the clock is ticking. In an ideal world, I would have my boat in the water and have started my training. At the moment, I have not found the financial support I need.

My preference would be to go in my old boat and she is still available, so that does mean that I could get a project together in a shorter amount of time. We would still need to do some work on the boat to be confident, but it is still possible so I have not given up yet.'

'We, as a team, have worked very hard trying to secure sponsorship for the race but it has been difficult in the current economic climate. I see some signs of people being more positive and maybe that will mean that a few more of us will be able to compete in the Vendée Globe.
The interesting thing about sailing sponsorship is that two sailors in the same class of boat and the same race can appeal to very different audiences, and as such, a wide variety of brands can find ways to activate with the right sailor.
Steve White is trading off the story of his last Vendee Globe. The race to get his campaign together with a shoestring budget and battle to finish in 8th place certainly goes to show his determination. The performance should have made it easier for White to raise money for his next attempt, but it is still a tough sell.
Steve says:
I was unknown in 2008 but after the Vendée Globe, it became easier for me to get in touch with potential sponsors, meet with the right people and have meaningful conversations with them. It definitely opened doors for me.

However, our project is still a little "fluid" at the moment. We had been talking to a sponsor for six months, and had gone as far as making a bid on a boat. But last week they had a change of heart and have decided to sponsor something else. It's their loss, I would say!

Getting sponsorship is the hardest part. We are now back to square one, having some conversations with potential sponsors, but we are still in the very early stages. We remain very optimistic, that sponsor could be just around the corner and we aren't going to give up.

I've been looking for sponsors since 2002 so I'm getting used to it! I usually get introduced to potential partners through a friend, or the friend of a friend, that's how it works. But I still like to get directly in touch with some people because it can be frustrating to have the future of your project in the hands of a friend, you sometimes feel like you're not doing anything.

Sponsors are not going to invest their money in any project that comes their way. They're looking for a specific person, someone whose values match their own. Their decision is made after face-to-face meetings and discussions, coming from a personal introduction or recommendation. There's no possible competition between two skippers looking for sponsors, even in the same country, because it's really about people.
It's not just British sponsors who are having a hard time. French brands who have supported sailing for years are thinking long and hard about their commitments. Veolia have ended their partnership and Groupama are assesing their position too.