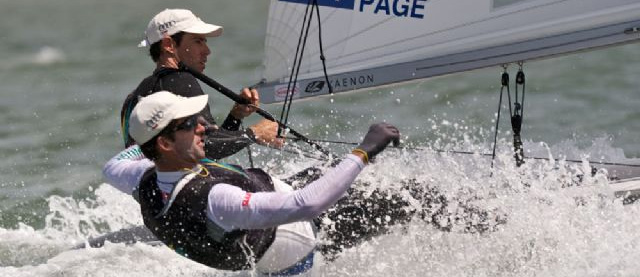 The Olympics was once an opportunity for athletes to compete on relatively equal terms, but in the modern games, some athletes get more help than others. Australian sailors will benefit from additional funding announced by the Australian Government.
$640,000 (AUD) will be added to the fund for targeted sports in the lead-up to the London Games as part of the Green and Gold Project. Almost $4.5 million in additional funding has been allocated.
The extra support is aimed at helping the nation's top performers to turn potential fourth, fifth and sixth places into medals, and bronze and silver medals into gold.
Yachting Australia is one of the leading sports receiving extra funding, with $310 000 now allocated to the Australian Sailing Team through the project, on top of the sport's annual high performance funding of $5.4 million.
Australian sailors did well at the recent World Championships in Perth and several have a chance at gold medals. The additional funding is designed to ensure top results through the recruitment of extra sports science expertise, accommodation assistance for non-Sydney based athletes to live and train at the new high performance center in Sydney, and the retention of senior coaches.
There are three Australian sailing crews and athletes ranked in the top three in the world, including Tom Slingsby (laser), Mathew Belcher and Malcolm Page (470), and Iain Jensen and Nathan Outteridge (49er).
Slingsby, who is also contracted to the Oracle Racing America's Cup team says that the support makes a difference:
The team is actually a team, not just individual sailors. We all support each other very strongly and hopefully we can come away with our best ever Olympics.

The funding is so important. We are very lucky to do what we love, but the athletes in Australia are extremely driven and we do this because we want to be the best. But unfortunately without funding, you can't be the best in the world.
The host team – Team GBR is also well funded, with several athletes benefiting from sponsorship that allows them to train and compete as full time professional athletes.