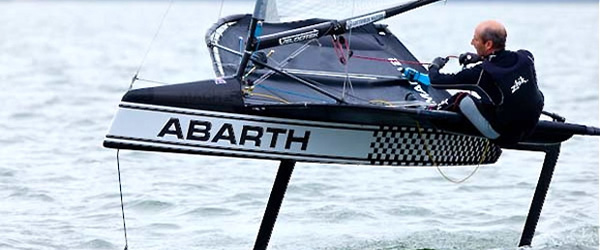 Social media and crowd-sourcing have spawned some cool competitions and some innovative ways to leverage sailing as a platform for marketing, but the latest campaign from Zhik might have missed a trick.
The sailing clothing brand has launched – Mothapalooza™ – a competition for Moth sailors participating in the Zhik Nautica Moth Worlds to pimp their  rides.
But rather than open the competition up to the public, the idea is to award the sailor with the best livery a cash prize, with some kit thrown in as secondary prizes. The public will be able to participate by voting on the designs conceived by the sailors!
The criteria for the competition is to design a look for a competing Moth with the most creativity, personality and style.
Bart Milczarczyk, Design Manager at Zhik said:
"There were quite a few boats with unique identity at the last Worlds, and we wanted to inspire that further, bring in some attitude, and make it fantastic to watch for spectators both in Italy and on-line".
The Moth sailors might have to choose between winning the Worlds and winning €5,000 Euros – as tests have shown that adding vinyl wraps on hulls and applying stickers to sails can makes a huge difference on a boat that is so sensitively balanced, but the Moth class is a diverse one, and not everyone is in it to win the Worlds.
Simon Payne, who has won the Moth Worlds twice says that the bulk of the fleet is made up of really interesting individuals and that such a campaign celebrates that individuality.
Simon's own Mach 2 has had a couple of distinctive liveries in the past two seasons including scorpions and   'Abarth Red' thanks to his deal with Abarth Cars UK. The current look, which was launched in the UK last year, mixes the clean carbon with a white checkerboard pattern and the Abarth badge on the sail.
Three independent judges will score each competitor's Mothapalooza™ hull, rig, and clothing and award a series of prizes.
For Zhik, this is about being close to the Moth class, but there is a little bit of 'preaching to the converted.' The focus on the competitors is great, but perhaps this campaign could have been a little bit more cool if the fans could come up with the designs.
The main Mothapalooza prize will be judged purely in the boat park and on Lake Garda. The "People's Choice" prize will be voted for on-line and fans can engage with competitors' videos, text, music and the designs.