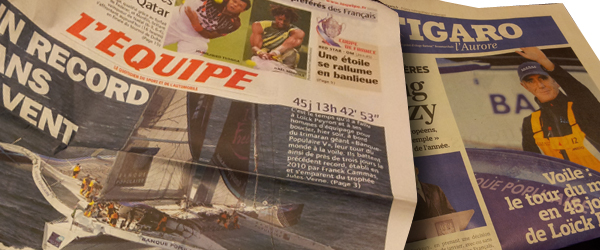 If you ask a non-sailing fan to name a sailor, chances are they will name someone who has broken a record. In the UK, they might say Ellen MacArthur or Robin Knox Johnson. In Australia, they might say Jessica Watson – and the reason that people recall those who break sailing records, is because it generates a lot of non-sailing media coverage.
The achievement of the Maxi Trimaran Banque Populaire V, breaking the round the world record otherwise known as the Jules Verne Trophy, proves once again that records bring publicity – and not just in France.
Skipper, Loïck Peyron and his crew circled the globe in 45 days, 13 hours, 42 minutes and 53 seconds, improving on the previous record time for the Jules Verne Trophy, held by another French team – Groupama – by 2 days, 18 hours, 1 minute and 59 seconds.
The average speed for the voyage was 26.51 knots over the distance of 29,002 miles.
Loïck Peyron said:
"It's a very emotional moment and everyone is overjoyed! We'll be celebrating this achievement amongst ourselves before returning to Brest tomorrow morning to share this amazing success with everyone. Our minds are full of fantastic images: the start, the icebergs, the albatrosses, the Kerguelen Islands… When you sail around the world in 45 days, you see a lot. The only thing we missed out on was Cape Horn, but that tiny frustration can be forgotten now that we have this record in our hands. We're very proud. When we crossed the line, we kissed each other on the cheeks to say thanks for this little trip."
Sitting in Paris airport on Saturday night I watched the footage of the return of Banque Populaire V on a loop as the main news story of the day. The news made the front page of the papers in France, but the story was also covered extensively in the UK thanks to the involvement of British offshore record holder Brian Thompson.
The BBC ran a headline that read:
Briton Brian Thompson breaks round the world record
Banque Populaire V also benefited from the America's Cup's new fascination with multihulls. Loick Peyron's involvement with Energy Team has allowed the cup to benefit from a little bit of reflected glory.
Record attempts carry some risk. It is an all or nothing roll of the dice for sponsors, and there is always a chance that someone will come along and take it away, but as far as sailing opportunities go, the return on investment (ROI) for such campaigns is enormous.